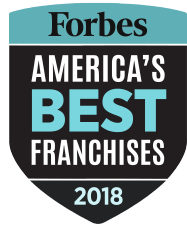 FRANdata was commissioned by Forbes yet again to create a ranking of the best and worst franchises. Forbes' purpose for this ranking was to give people who are looking into buying a franchise a bird's eye view of how different franchises' health and appeal measure up. The ranking was based on performance and revenue metrics compiled and analyzed by FRANdata, the only research and consulting firm that focuses on studying the comparative performance of franchise brands. FRANdata analyzed over 3200 franchise brands and measured them according to five main criteria: system sustainability, system demand, value for investment, franchisor support, and franchisor stability. The value for investment score is comprised of various components including the ratio of sales to initial investment, transparency into franchisees' operating expenses and potential profitability, and the level of support the franchisor provides to franchisees.
Have questions regarding the ranking? Contact Meme Moy, FRANdata's Director of Marketing, at mmoy@staging.frandata.com
*For questions on using the "Forbes America's Best Franchises 2018" emblem in their print or digital marketing materials, please contact Doug Lopenzina@forbes.com or call 212.620.2399.
Read All About It:
How Forbes and FRANdata Ranked America's Franchises