Franchisors incur a slew of costs related to the initial franchise fee supporting their franchisee before the business opens for operation. The costs franchisors incur in providing advice and services necessary for the franchisee to begin operations can be broadly characterized into 3 buckets – franchisee prospect acquisition costs, training costs, and pre-opening support costs.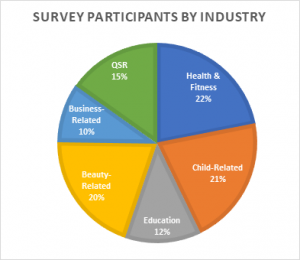 This analysis is based on FRANdata's internal database and a comprehensive survey of franchisors. Franchisors surveyed represented all industries, sizes and stages of the growth lifecycle. Our analysis found that emerging brands are most impacted by the FASB revenue recognition rule change, with an estimated 930 brands facing a serious risk of bankruptcy or closure within the first three years of the rule going into effect. Based on our survey, many emerging brands have gone through the arduous and costly accounting exercise to identify the costs they incur to related to opening a new franchised business. Emerging franchisors having gone through the ASC 606 process shared their experiences and results with us. The following analysis is based on validated survey results and actual data provided by emerging franchisors with less than 100 franchised units. Respondents were representative of the total emerging franchisor population, with an average of 27 franchised units in operation, ranging from 0 to 92 franchised units.
Overall, emerging franchisors with less than 100 franchised units provided actual data showing that their costs providing non brand-specific services necessary for the franchisee to open for business averaged 73% of the initial franchise fee revenues – ranging from 40% to 81% of the initial franchise fee.
The first bucket of costs incurred by franchisors are prospect acquisition costs, including advertising the franchise opportunity, broker costs, and sales commissions. These costs ranged widely between 15% and 70% of the initial franchise fee, with an average of 43% for emerging franchisors. The high end of the range represents emerging brands that use broker services. Many emerging brands rely heavily on broker groups to grow in their early years, with some brands belonging to up to five or six broker groups. Emerging brands must invest heavily into their broker relationships in order to achieve success through this channel. Some broker groups charge up to $10,000 in annual membership fees (unattributable costs), in addition to the direct fees related to a franchise sale. Broker groups hold conferences and events franchisors must register for and travel to in order to maintain those broker relationships. Franchisors invest an average of 14% of the initial franchise fee to advertise the franchise opportunity and attract prospective investors. These lead generation costs include tradeshows, mobile advertising, SEO, public relations and advertising through third party portals. These prospect acquisition costs grow when you consider other costs such as sales commissions, prospect vetting services, and other indirect costs such as professional association memberships.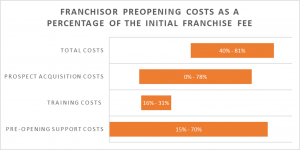 Pre-opening training is at the core of a franchisees future success, and emerging franchisors should be encouraged to provide robust training programs to their franchisees. Providing training to new franchisees costs emerging franchisors an average 19% of the initial franchise fee, ranging from 16% to 31%. Training costs include supplies, training materials, training staff, and other costs. Emerging brands training expenses are typically lower than those of mature brands because emerging brands incur higher costs in all other areas of supporting franchisees before they open. Emerging brands' training programs often focus on training directly related to the brand and the brand's systems and processes, essentially training franchisees to open that specific business. Emerging franchisors are often resource constrained from providing more comprehensive general business training programs. Mature brands have greater available financial and operational resources to provide more robust business training programs, teaching general business skills like finance, marketing, sales, etc. Our survey found that some mature brands spend over 100% of their initial franchise fee on training alone.
The last bucket of costs is related to pre-opening support provided to franchisees to help them open for operations, including site selection, real estate support, site development, and pre-marketing research and development costs. These pre-opening support costs amount to an average 11% of the initial franchise fee, ranging widely between 0% to 78%. Emerging brands with brick and mortar businesses are expending a significant amount of time, money, and resources to help their early franchisees acquire and buildout a site. Most franchisees don't have real estate backgrounds, so franchisors are investing in the whole real estate process from identifying and assessing sites, to lease negotiations t ensure their franchisees are set up for success. Project management and site development support and costs include site design, buildout, architect fees, permitting support, contract relationship management, on-site support. Franchisors invest heavily in market research and site evaluation services to identify markets and specific sites to successfully locate their franchisees businesses.
Emerging franchisors are extremely passionate about the revenue recognition rule change and candidly shared their experiences and the impacts to their business. It is important to note that emerging franchisors in their early years franchising are still establishing and refining their infrastructure and systems to support and grow their new franchised businesses. Emerging franchisors invest significantly into research and development of their pre-opening marketing programs to help franchisees kick off their operations and drive business growth in new markets. For example, an emerging fitness center franchisor invested $80,000 to develop a systemwide pre-marketing program that all franchisees moving forward will benefit from. Under this program, franchisees work directly with the pre-marketing program starting two months before the franchisee opens for business, through the first three months in operation. The pre-marketing program helps franchisees build a customer base and drive memberships before the business even opens.