At FRANdata we consider our team of research and data analysts the backbone of the company. Our passion for all things franchising starts and ends with our brain trust and that comprises of talented people who spend countless hours gathering, analyzing and deciphering metrics and insights so that our clients can make decisions that resonate. The "Expert Perspective" series aims to pull back the curtain and introduces you to our team of researchers who eat, breath and talk franchising.
A financial analysis powerhouse, Christina brings strong quantitative and qualitative analytical skills and research experience to the company. Christina holds a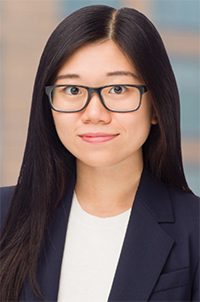 B.A. in Economics from the University of Colorado, Denver, with a minor in Mathematics, and an M.A. in Applied Economics from Georgetown University, where her studies focused on data analytics and economic forecasting. For the past 4 years she has worked with some of the largest brands in the industry as well as provided important analysis to the International Franchise Association which was useful in their work lobbying for franchise interests on capitol hill.
What do you love most about Franchising?
I love that my job at FRANdata allows me to work with all sorts of clients from different industries. I have the opportunity to be involved with a wide range of challenging projects. Today I am analyzing a brand's financial and operational performance, tomorrow I might be studying the growth trends in the restaurant industry, and the next day I will be building and implementing survey tools to collect responses from company executives. I never get bored working at FRANdata, I am constantly learning new skills and gaining knowledge, and that's what I love and enjoy the most. In my opinion, consulting is about helping clients solve issues, facilitating their growth and achieving goals. Whenever I successfully deliver a project and reach their expectations, I get a sense of accomplishment and joy, which is also something that always motivates me to work harder.
What is the one thing you find interesting about franchising or your clients?
One thing I find interesting is that franchises are everywhere in our life. From a coffee shop, a convenience store we go to, to a gym or beauty salon. I can't even remember how many times I saw a brand, and I told my friends, "oh, I know that brand is a franchise, and they are my company's client", and I felt proud. For my clients, they are always putting great amount of effort to improve their brand, grow system size, and working diligently to support their franchisees, and I am always inspired by their passion and enthusiasm.
What do you enjoy doing outside of work?
That's a hard one to answer, being  in the middle of the pandemic it just seems like any of the usual fun activities might be deemed risky. While we are all staying at home,  I like playing the piano, attending virtual workout classes, and cooking. For outdoor activities, hiking and kayaking are my top choices!