Is it a newer standard, or just an old one getting more attention?
According to a FRANdata analysis, more than 50% of all franchisees in the U.S. are now multi-unit operators. The attractiveness of single-unit owner-operator model may finally be waning, as an increasing number of emerging brand franchisors are increasingly preferring to deal predominantly or even exclusively with multi-unit franchisees, in turn creating large multi-brand, multi-unit operators.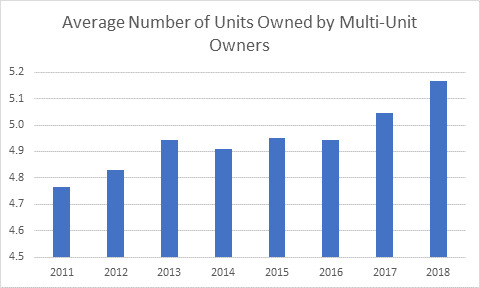 In the 4 months running up to April 2019, FRANdata has tracked 94 large multi-unit development deals across 63 brands totaling 607 franchised units, expected to be developed between now and the next 3 to 5 years. Of these 94 large deals, more than 57% are expected to take place with emerging franchise concepts with less than 50 units. While multi-unit development space at one time seemed to be dominated by established restaurant concepts, it is the emerging brands that have now taken a liking to the multiple brand franchisee concept.
Take Hummus & Pita Co. for example. The franchise just recently brought on board a Southern California multi-concept operator as part of a 100-unit development deal for the state of California. The same brand has also signed on Premier Kings, Inc., one of the largest Burger King franchisees for another multi-unit development deal for the southeast markets.[1] And Hummus & Pita Co. is not the only brand to take advantage of this trend. Most of Blaze Pizza's remarkable fast growth has been on the back of multi-unit, multi-brand franchisees. Earlier this year in February 2019, the company signed a 10-unit development deal with Blazing Hospitality, whose franchise portfolio includes multiple Tropical Smoothie Cafes, Bahama Buck's and Subway.[2]
The "hot"-ness for multi-brand franchisees can be directly correlated to the non-compete clauses that most franchisors have in their franchise agreements. For instance, a burger franchisor may not allow its franchisees to open or operate another burger concept that competes with its own. Consequently, the franchisees of such a brand are forced to look for growth opportunities in other industry verticals, giving rise to multi-unit/multi-brand franchisee operators. And it is the new and emerging brands that are making the most out of this trend in recent times.
Having said that, one of the challenges that several emerging brands are likely to face includes finding more such qualified potential multi-brand franchisees, and secondly, creating a brand message that resonates with this franchisee base. FRANdata has often advised its emerging brand clients to test its brand message and franchise value proposition across a wide array of franchisees before embarking on this multi-brand operator strategy.
[1] Franchising.com, April 2019