As shelter-in-place orders and social distancing measures to curb the spread of COVID-19 were implemented, we have seen a far-ranging economic impact and a reduction in general business activity. According to an online survey conducted by Main Street America, of the nation's approximately 30 million small businesses, nearly 7.5 million small businesses may be at risk of closing permanently over the coming five months, and 3.5 million businesses are at risk of closure in the next two months. Approximately 35.7 million Americans employed by small businesses appear to be at risk of unemployment.[1]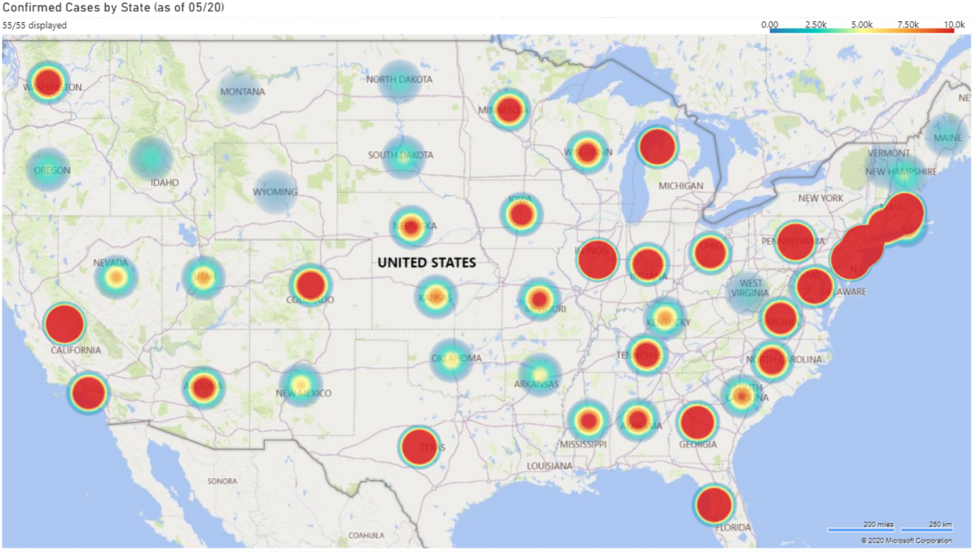 Data Source: https://coronavirus.1point3acres.com/
Despite its many negatives, the recession induced by the COVID-19 virus could set the stage for franchise systems in some industries to see a period of growth.
Restoration Services
While COVID-19 is putting many industries at risk, the restoration service industry appears to be positioned as less affected than others. The White House has released a 3-phase approach to reopen America, by May 14th, over 30 states had partially opened with another 9 states reopening soon. In the meantime, the CDC provided reopening guidelines which include cleaning and disinfecting public spaces, workplaces, businesses, schools, and homes. Some states also clearly outlined businesses must ensure facility cleaning and disinfection necessary to keep workers and customers safe.
In the face of this market need, many franchises in the restoration service space started to provide coronavirus deep cleaning and sanitation services, including large systems like Servpro, Service Master, Belfor, Paul Davis Restoration, Restoration 1, as well as local small franchises. EPA-registered, hospital-grade disinfectants are utilized to respond to the outbreak. According to a local franchise, headquartered in Charlotte, NC, they've seen a drop in business from places that are shuttered during the pandemic, like schools and restaurants, but they've seen a spike in demand from what are considered "essential" businesses, like grocery stores, hospitals, and trucking companies. Currently they serve clients including gyms, grocery stores, offices, hospitals, retail stores and manufacturing facilities.[2]
Real Estate Brokerage
The COVID-19 pandemic is a quite different type of global crisis compared to the 2008 financial crisis, which even the most resilient leader is finding hard to navigate with no definitive end in sight. There are multiple conflicting factors tugging at the current real estate market. Social distancing and government imposed stay-at-home orders hit the home-selling market during the usually robust spring season, slowing the amount of home buying. Real estate agents also find their hands tied from doing the most integral and fundamental parts of their job – showing people through homes, meeting with sellers and clients to keep the wheels of the relationship turning. As people continue to shelter in place, they are spending more time at home which may prompt them to seek out larger homes with more amenities. While workers face uncertainty over their next paycheck, demand for big-ticket items like cars and houses typically shrink. Besides, the effects of the recession have been slowed with higher unemployment benefits and with a holiday on bank foreclosures, the impact of these supports may go away later in the year unless congress extends these benefits.
On the other hand, as people begin to go back to work, we may start to see both buyers and sellers returning to the market, creating the beginnings of a V-shaped recovery in the housing market. Over the past few weeks, purchase activity has been 13% higher than it was during the same period a year ago.[3]
Berkshire Hathaway HomeServices, a large real estate brokerage franchise, has transitioned more than 85% of its 750+ employees to remote working since March. The company increased cleaning and disinfecting procedures across all of the sales offices and eliminated all in-person gatherings and meetings. It also leveraged technology to provide almost the entire home selling and buying experience online, from virtual tours to remote home settlement and refinancing opportunities.[4]
As the pandemic has forced real estate brokers to tighten their belts, fees paid to franchisors are looming large on franchisees' P&Ls, leading franchisors to take action and pull back fees. According to the CFO of RE/MAX Holdings, a global franchisor real estate brokerage, their franchisees can now defer their fees and pay them back later in the year as real estate transactions occur, or they can pay now, but at a reduced rate of 50% of what they would have normally paid.[5]
Under the issued Homeland Security guidance, real estate is deemed as an essential service, while there are state-by-state differences on whether it is considered as "essential." For example, states like Connecticut, Illinois, and Ohio have determined that real estate is an essential service and that agents and related professionals may continue serving the public during the COVID-19 outbreak. Other states like Michigan and Pennsylvania decided that real estate businesses are non-essential and that they should temporarily cease operations that involve face-to-face contact with others for public health purposes.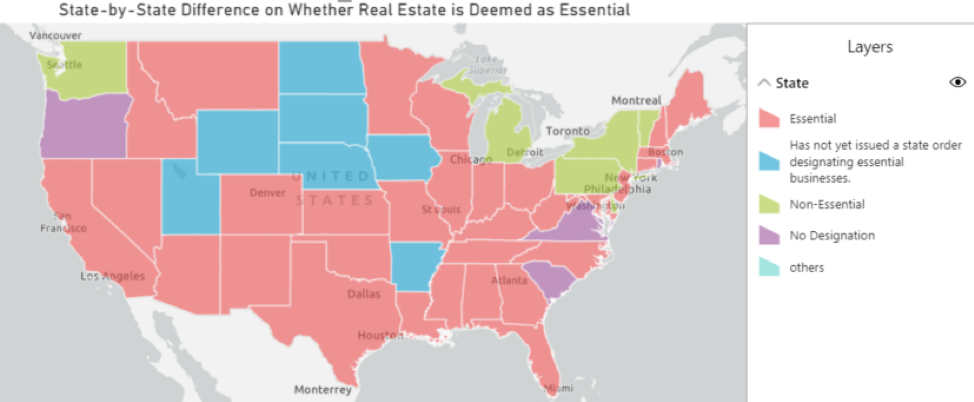 Source: https://realtyna.com/blog/is-real-estate-essential-service/
One new order that could facilitate the sales and increase the volume of residential transactions is that real estate professionals in most states are now allowed to show homes in person. For instance, Michigan started to permit this on May 7 – workers in the real estate industry, including agents, appraisers, brokers, inspectors, surveyors, and registers of deeds, can resume in-person work activities under certain specified restrictions.[6]
Home Improvement
With quarantine in place, we thought the home improvement industry would experience a downtrend as a result of stay-at-home regulations. However, many people have either started a home improvement project or are spending time to research for future projects. A satisfaction study conducted by J.D. Power stated that, over 35% of people are in the process or are planning to do a home improvement project over the next three months. This includes a 40% increase specifically due to the unexpected additional time at home. There is also evidence that paint and stain purchases could potentially exceed typical Q2 trends.[7]
The outlook for many industries is still uncertain and very reliant on the shape of the post-COVID-19 recovery. Lean operation and keeping a steady hand on the wheel is important now, but those brands and companies who are well prepared to take advantage of the post-COVID-19 resurgence when it comes will benefit from this silver-lining opportunity, and finally move from surviving to thriving in this coronavirus-induced recession.
[1] The Impact of COVID-19 on Small Businesses
https://higherlogicdownload.s3.amazonaws.com/NMSC/390e0055-2395-4d3b-af60-81b53974430d/UploadedImages/Resource_Center/COVID_19/NMSC57_MSA_COVID19IMAPCTSURVEY_F.pdf
[2] Cleaning service franchise sees COVID-19 spike in business
https://www.bizjournals.com/sacramento/news/2020/04/15/cleaning-service-franchise-sees-covid-19-spike-in.html
[3] Mortgage Applications Increase in Latest MBA Weekly Survey
https://www.mba.org/2020-press-releases/june/mortgage-applications-increase-in-latest-mba-weekly-survey
[4] Our Company's Response to COVID-19
https://www.foxroach.com/blog/covid19/
[5] Inside The Real Estate Realm, CFOs Practice 'Push-And-Pull' Cost Management To Ease COVID-19 Disruption
https://www.forbes.com/sites/jacksweeney/2020/04/29/inside-the-real-estate-realm-cfos-practice-push-and-pull-cost-management-to-ease-covid-19-disruption/#400d82dd1fd1
[6] COVID-19 Changes How You Sell Your Home: Real Estate Lawyer Explains Rule Changes And What Could Be Next In Your State
https://www.forbes.com/sites/brucebrumberg/2020/05/07/covid-19-changes-how-you-sell-your-home-real-estate-lawyer-explains-rule-changes-and-what-could-be-next-in-your-state/#4d75bbb36063
[7] With COVID-19, Consumers are Jump-Starting Home Improvement Painting Projects
https://www.businesswire.com/news/home/20200409005112/en/COVID-19-Consumers-Jump-Starting-Home-Improvement-Painting-Projects